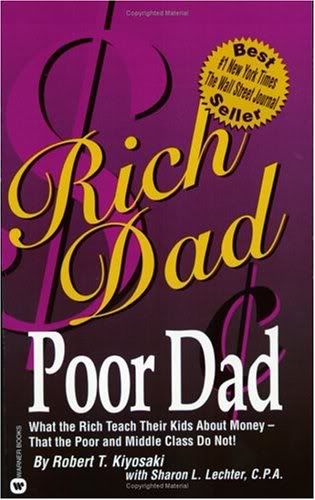 After completing the book "Rich Dad, Poor Dad" by Robert Kiyosaki, plus a little extra initiative, you should be able to catch what's really important in order to achieve financial independence. According to the author, here are ten steps to awaken the financial genius in you.
1. Find a reason greater than reality, a big dream. Think of the freedom, the lifestyle wherein you control your own time. Think of what you don't want, i.e. "I don't like being an employee".
2. Use the power of choice, daily. You can choose to watch MTV, or watch CNBC. It's how you choose to use your time and energy everyday that brings financial success in the long run.

3. Choose your friends carefully. It pays to have friends who are focused and achieving their goals. Surround yourself with friends you can learn from.


4. Master a formula. Learn a new one, and learn fast.


5. Pay yourself first. Practice self-discipline by keeping expenses low. Tenants can pay for your expenses if you rent out apartments or mini-storage, for instance. Savings are used for investing and creating more money, not for paying bills.


6. Pay your broker well. Attorneys, accountants, stockbrokers, and real estate brokers will have more incentive to work harder for you. If they make more money, it means you make more money as well. 3-7% is a good incentive.


7. Be an Indian giver. It's the concept behind ROI. (Return on investment) Invest and then take the initial money out after a time when the investment has earned for you.


8. Buy luxuries last. Let the income from your growing assets afford you the new car. Wait for your asset base to grow first. Middle class people buy luxuries first, on credit.


9. Find yourself a hero. When you play golf you can imagine you are Tiger Woods. When you do business, you can ask yourself, "What would George Soros have done if he was in my place right now?"


10. Teach and you shall receive. As in money, love, or friendship. If you give without expecting anything in return, you receive more.


To-Do List

1. Stop what you're doing. Take a step back to assess your situation. Stop doing what is not working and look for a new option.


2. Look for new ideas.


3. Take action. Find someone who has done what you want to do. Take them to lunch. Ask for tips.


4. Take classes and buy tapes.


5. Make lots of offers. Finding a good business deal is a lot like dating. You must go to the market and talk to a lot of people, make offers, counteroffers, negotiate, accept and reject. Many single people sit at home waiting for the phone to ring instead of going out and hitting the dating scene.


6. Take a walk through your neighborhood and look for bargain real estate deals.


7. Buy the pie and cut it into pieces. People buy only what they can afford so they think small. Think big. This goes for land and other investments.


8. Learn from history. Colonel Sanders lost everything in his 60's and started from scratch with a fried chicken recipe. Bill Gates became rich before he was 30.



ACTION ALWAYS BEATS INACTION.



IF YOU'RE DOING SOMETHING YOU CARE DEEPLY ABOUT AND IF YOU BELIEVE IN IT, IT'S IMPOSSIBLE TO IMAGINE NOT TRYING TO MAKE IT GREAT.





Related posts:
1. School Makes You Good Employees, But Financial Literacy Makes You Good Employers
2. Keep Your Day Job But Start Minding Your Own Business
3. The Secrets About Money You Don't Learn In School